Training and Development For Dummies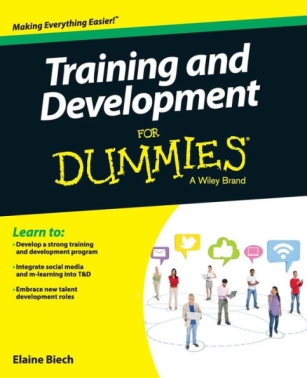 Published by Wiley, Dummies
Develop and deliver a robust employee training and development program
Training and Development For Dummies gives you the tools you need to develop a strong and effective training and development program. Covering the latest in talent development, this informative guide addresses classroom, virtual, and blended learning to open up your options and help you design the program that's right for your company. You'll explore the different modes of formal learning, including social learning, m-learning, and MOOCs, and delve into the benefits and implementation of self-directed and informal learning. The discussion covers mentoring and coaching, rotational and stretch assignments, and how to align talent development with the company's needs. You'll learn how to assess employee skills, design and deliver training, and evaluate each step of the process to achieve the goals of both the employee and the organization.
Most employees have some weaknesses in their skill sets. A robust training program allows you to strengthen those skills, and a development program brings all employees up to the highest possible level of productivity and success. This book helps you create consistency in your company by developing and delivering the exact training and development program your people need.
Develop a strong training and development program
Foster a supportive and innovative work environment
Learn about social learning, m-learning, and MOOCs
Assess and evaluate your staff more effectively
A great training and development program boosts performance, productivity, job satisfaction, and quality of services, while reducing costs and supervision. Investing in your employees gives an excellent ROI, as talent development is a primary driver behind both motivation and loyalty. Training and Development For Dummies shows you how to reap these benefits, with step by step guidance and essential expert insight.
Paperback | 456 pages | 978-1119076339 | May 26, 2015