The New Consultant's Quick Start Guide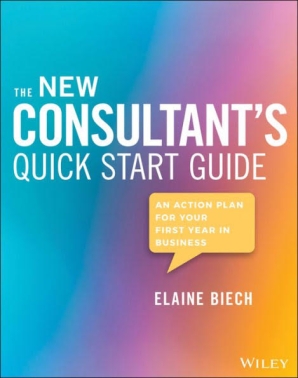 An Action Plan for Your First Year in Business
By Elaine Biech
Published by Wiley
Management consulting is a $250 billion industry and growing at a rate of over four percent annually. Many predict that more than 40 percent of the U.S. workforce will soon be contingent, freelance, or consulting members of the workforce—making this book more relevant than ever.
Individuals become independent consultants out of necessity or preference: necessity because they lost their job or the company offered an attractive exit package; preference because they want a career change, more control over their time, or an enriched, varied work situation. Consulting also appeals to today's workforce who are searching for careers that offer a good salary as well as meaningful work. The New Consultant's Quick Start Guide:
Answers the most common questions asked by new consultants: how much do I charge? and how do I find clients?
Explores the skills and attributes of successful consultants
Defines the transition of becoming an entrepreneur and a successful consultant
Includes worksheets, checklists, assessments, tips, examples, and online resources
Helps you identify your niche, develop a business plan, charge what you're worth, and create a marketing strategy to ensure a steady stream of clients
Prepares you for changes you will encounter beyond your professional life, including social, family, and financial aspects

As a companion to The New Business of Consulting, this book helps you work through the challenges of consulting such as working alone, deciding on necessary insurance coverage, finding your first clients, struggling with cash flow, and understanding market trends.
Endorsements
"All you need to become a successful independent consultant for the long haul!"
—Ken Blanchard, coauthor of The New One Minute Manager® and Leading at a Higher Level
"Arguably the foremost authority on training consulting, Elaine. . . has produced a personal planning guide that will illuminate the path to consulting success."
—Dr. Jim Kirkpatrick, coauthor of Kirkpatrick's Four Levels of Training Evaluation
"I loved working with Elaine Biech, a consultant on some of our contracts. She struck fear in the hearts of major consulting contractors like Booz-Allen and Accenture. She is that good and her costs are lower. I've seen her get a room full of leaders transformed from bitter enemies to friendly partners. If you are thinking about starting a consulting business, she began from the ground up and continues to flourish. Highly recommend her books and courses."
—David L. Winters, Former Division Director at Office of Naval Research. Author of Taking God to Work
"A relevant book for getting started in the consulting business. The timing is right as we move into a world where organizations and people need more input and advice from the outside."
—Ingar Skaug, Board Chairman, Center for Creative Leadership and former VP, SAS
"Practical. Inspiring. Ethical. Wise. Essential reading for anyone starting a consulting practice. I wish I'd had this when I started out. This needs to be on every new consultant's desk."
—Jonathan Halls - Author, Confessions of a Corporate Trainer: An Insider Tells All
Paperback | 280 pages | 9781119556930 | April 30, 2019